Save 20% on your next order with promo code COAST20
The Cordless Prelit Regal Ribbon Holiday Trim (30 Wreath)
Detail

Product Name:

The Cordless Prelit Regal Ribbon Holiday Trim (30 Wreath)

Item NO.:

31b72f35-81c5-41cc-a9eb-010db9f31b6a

Weight:

0 kg = 0.0000 lb = 0.0000 oz

Category:

default

Creation Time:

2022-01-20

This is the regal ribbon cordless prelit holiday wreath that can be hung anywhere indoors or outdoors without requiring proximity to an outlet. Its two-tone gold diamond-patterned fabric ribbon originates from the 13th-century law established by Louis IX that reserved the precious gem for the king while the rich velvety crimson companion ribbon provides tasteful contrast. The wreath is decorated with glossy, golden-painted plum ornaments accompanied by clusters of red berries that nestle among dense greenery that replicate the growth patterns of actual conifer branches.



An automatic timer turns the warm white LEDs on for six hours and off for 18 hours. Requires three D batteries.Wreath. With 60 LEDs. 30" Diam. x 6" D. (4 1/4 lbs.)


30" Wreath:With 80 LEDs and 127 branch tips. Requires two D batteries.


Garland:With 120 LEDs and 156 branch tips. Most doorways will need 3 garlands.


Teardrop Sconce:With 70 LEDs and 102 branch tips.

Adding to cart succeed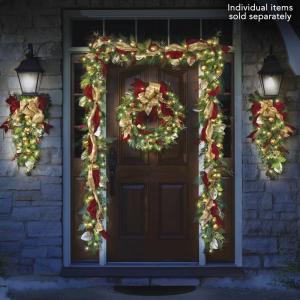 The Cordless Prelit Regal Ribbon Holiday Trim (30 Wreath)
color:red,size:xxl
Contact Us

Add: 8th floor, Palace Building - 221b Baker Street - London - United Kingdom

Tel: (+84). 123. 456. 789

Mail: [email protected]
Join our community
Subscribe To Our Newsletter